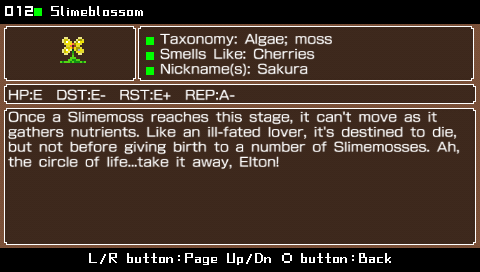 Slimeblossom or Slimemoss Blossom is the third and last lifestage of a slimemoss. It´s looks like a yellow flower with white spots on the blossom. It can´t move. It gathers nutrients. After a while, it die and creates 3 Slimemosses.It can paralyse Heroes, Omnom and Omnom Fly.
Ingame description:Once a Slimemoss reaches this stage, it can´t move as it gathers nutrients. Like an ill-fated lover, it´s destined to die, but not before giving birth to a number of Slimemosses. Ah, the circle of life...take it away, Elton!
| | |
| --- | --- |
| HP | E |
| DST | E- |
| RST | E+ |
| REP | A- |
Ad blocker interference detected!
Wikia is a free-to-use site that makes money from advertising. We have a modified experience for viewers using ad blockers

Wikia is not accessible if you've made further modifications. Remove the custom ad blocker rule(s) and the page will load as expected.