Omnom is the only Primary-Only Consumer in the game. It looks like white and purple centipede.If it eats enough Slimemosses, it will grow in to a Omnom Pupa. It can be upgraded to Omnomnom, and will mutate into Omnomnom if slain, Venomnom if eaten, or Serpent Omnom if starved. No Heroes Allowed description: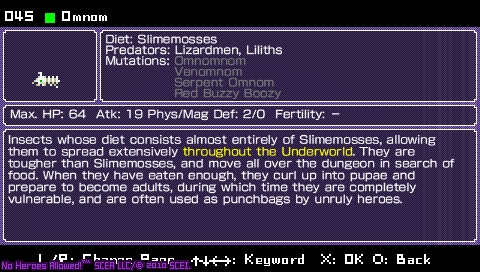 In-Game Descriptions
Edit
This bug feeds mainly on Slimemosses. The Omnom appears in many forms and locations. It generally has a foul look on it´s face, and it´s teeth are sharp and capable of cutting through just about enything. People assume it was named after it´s chewing sound, but actually it´s named for the man who discovered it, Professor Omnom. - Holy Invasion of Privacy Badman!
| | |
| --- | --- |
| HP | E |
| DST | D- |
| RST | E |
| AGI | B |
| REP | C+ |